SoildiverAgro
is organized around
8 Work Packages
which are defining the main technical activities to be implemented around
6 geographical areas where 15 case studies
will be performed to better understand how soil organism's benefits can be applied to improve resource uptake, plant growth development and health. The case studies are organized
around 3 different crops (potatoes, wheat and vegetables) in mono and diversified cropping systems.
The
information extracted
from the field case studies will
create new knowledge
about the beneficial effects of genetic and functional soil biodiversity (micro and macro organisms) on crop production,
contributing to the establishment of soil biodiversity targets and proposes for integrating soil biodiversity into farming practices.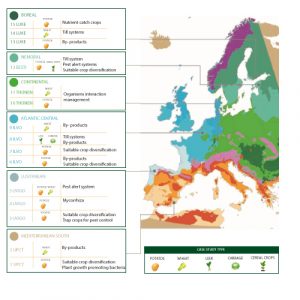 Click here to download the image.
List of case studies: